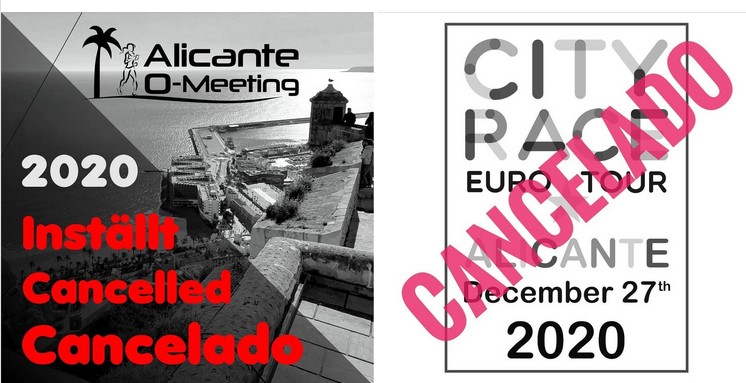 ESPAÑOL
Ante la inseguridad existente debido a la situación creada por el COVID-19 desgraciadamente nos hemos visto obligados a cancelar el evento "Alicante O-Meeting 2020" del 26 al 29 de diciembre, al igual que Alicante Euro City Race el 27 de diciembre.
FRANÇAIS
Compte tenu de la situation actuelle en matière de sécurité sanitaire due au COVID-19, nous nous sommes malheureusement vus dans l'obligation d'annuler l'événement «Alicante O-Meeting 2020» prévu du 26 au 29 décembre, et par conséquant aussi l'Alicante Euro City Race du 28 décembre.
SVENSKA
Med tanke på den nuvarande osäkerheten på grund av den situation som skapats av COVID-19 har vi tyvärr beslutat att ställa in tävlingen "Alicante O-Meeting 2020" från 26 till 29 december, liksom Alicante Euro City Race den 27december.
ENGLISH
Given the existing insecurity due to the situation created by COVID-19, unfortunately we have decided to cancel the competition "Alicante O-Meeting 2020" scheduled from December 26th to 29th, as well as "Alicante Euro City Race" on December 27th.
Alicante
29th of July 2020
The event organizer
Club Orientabonito
Guardamar del Segura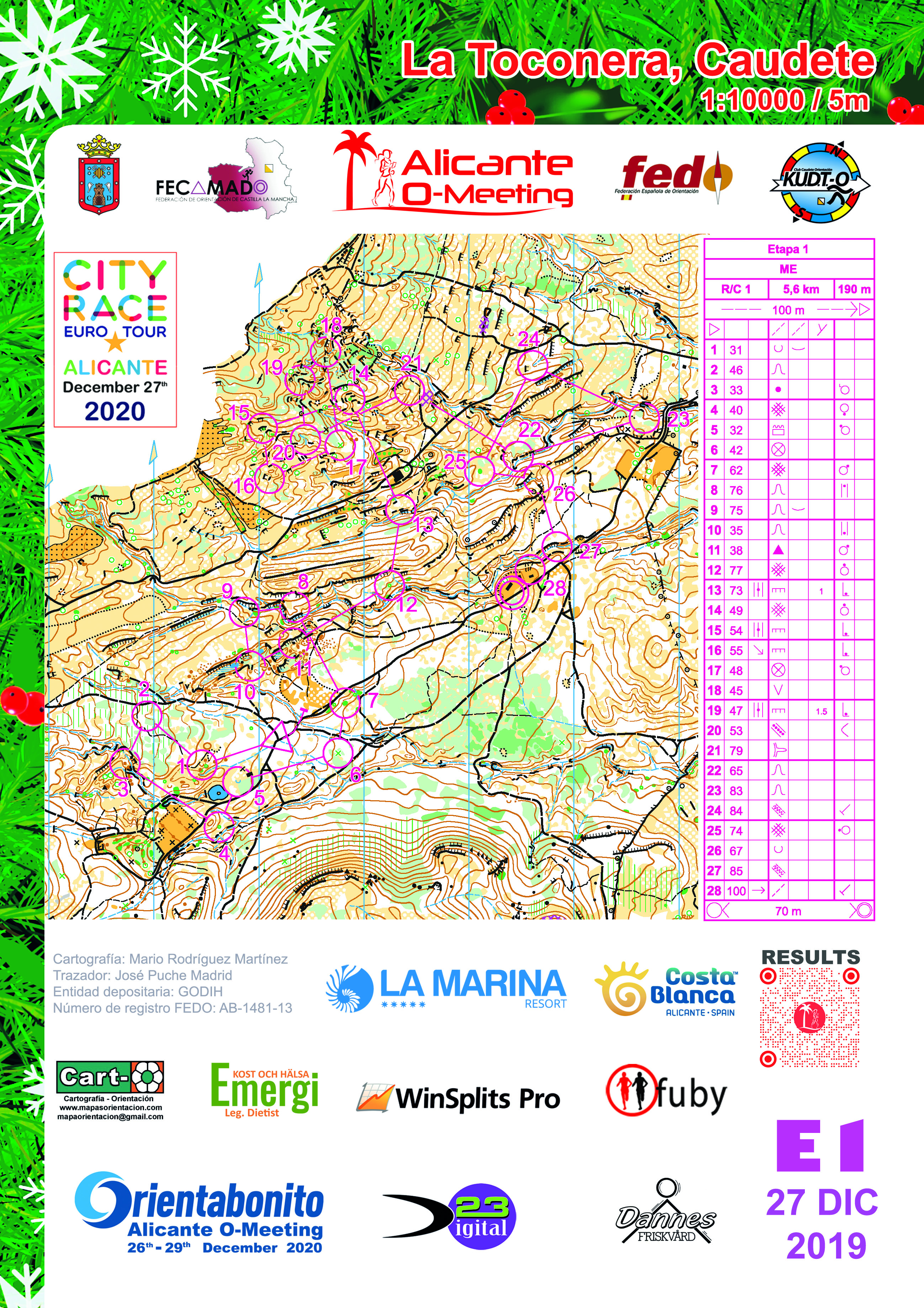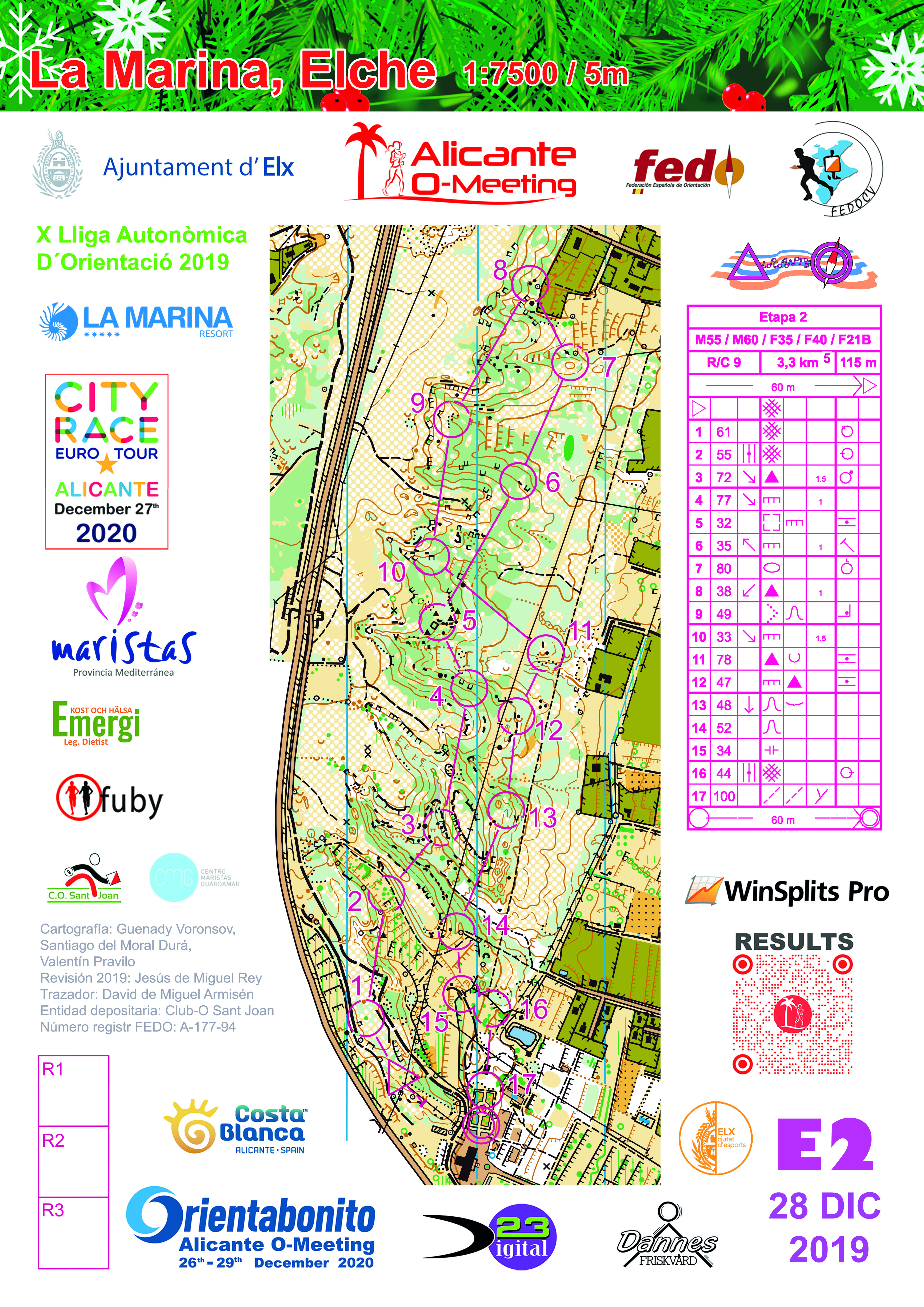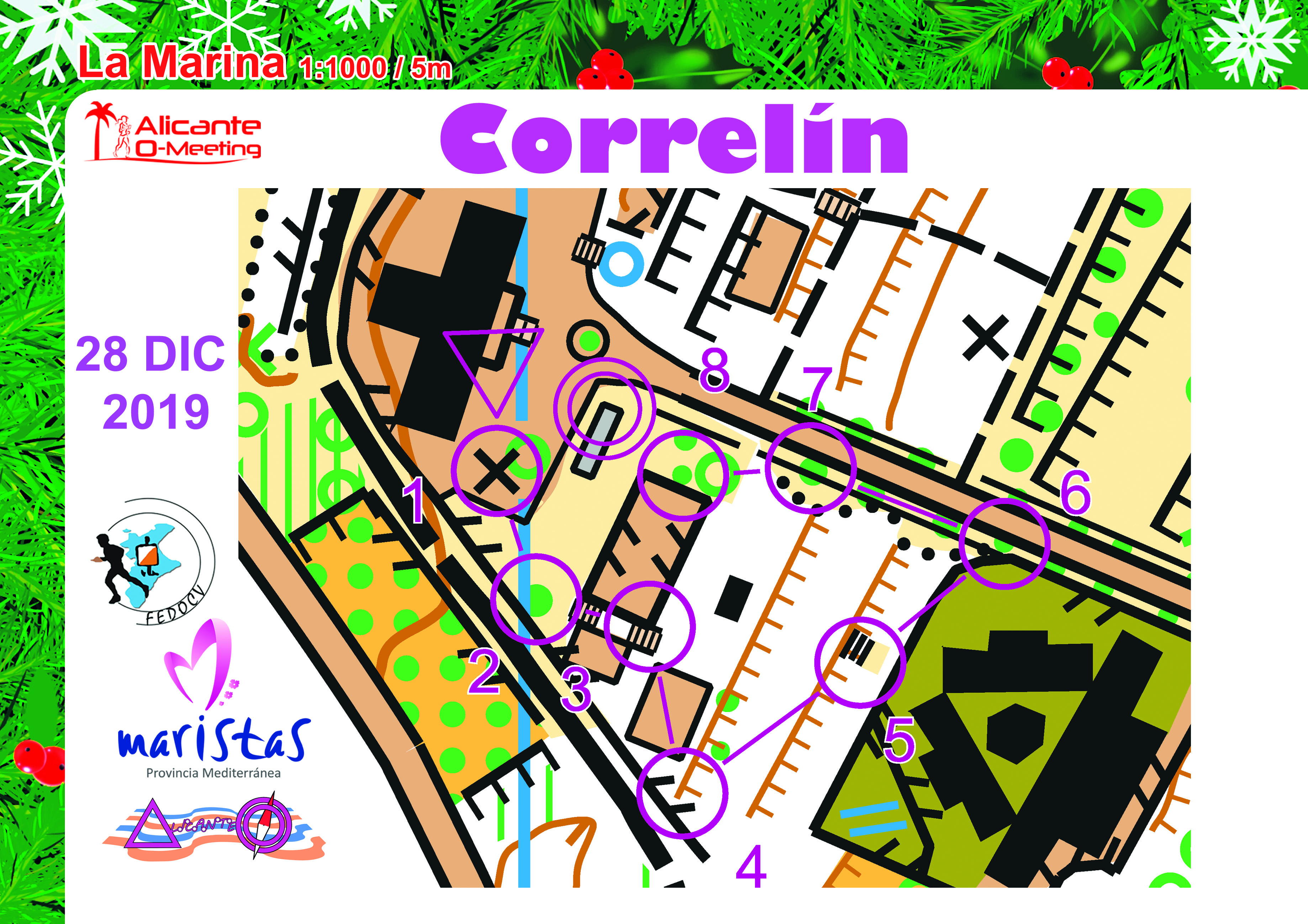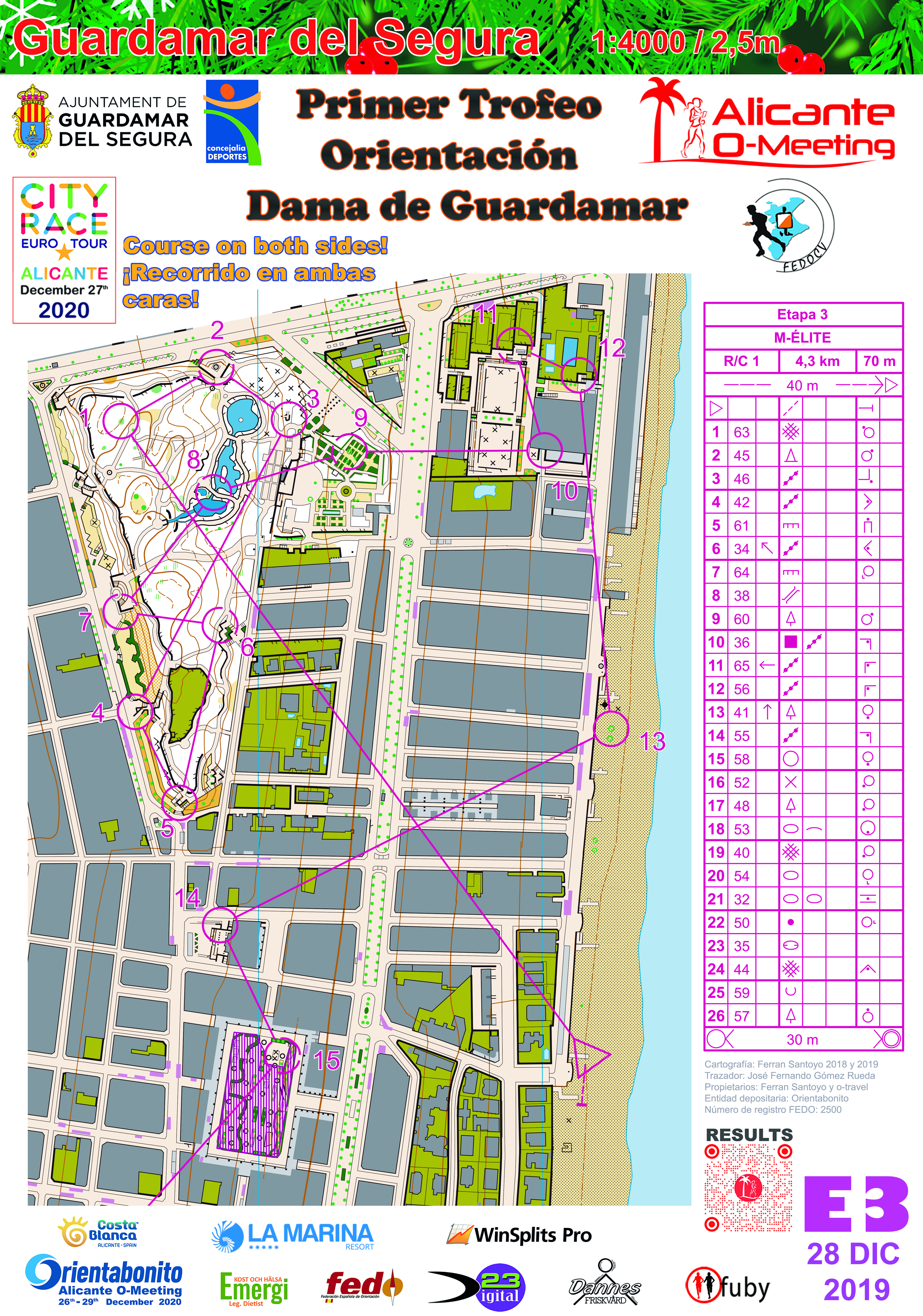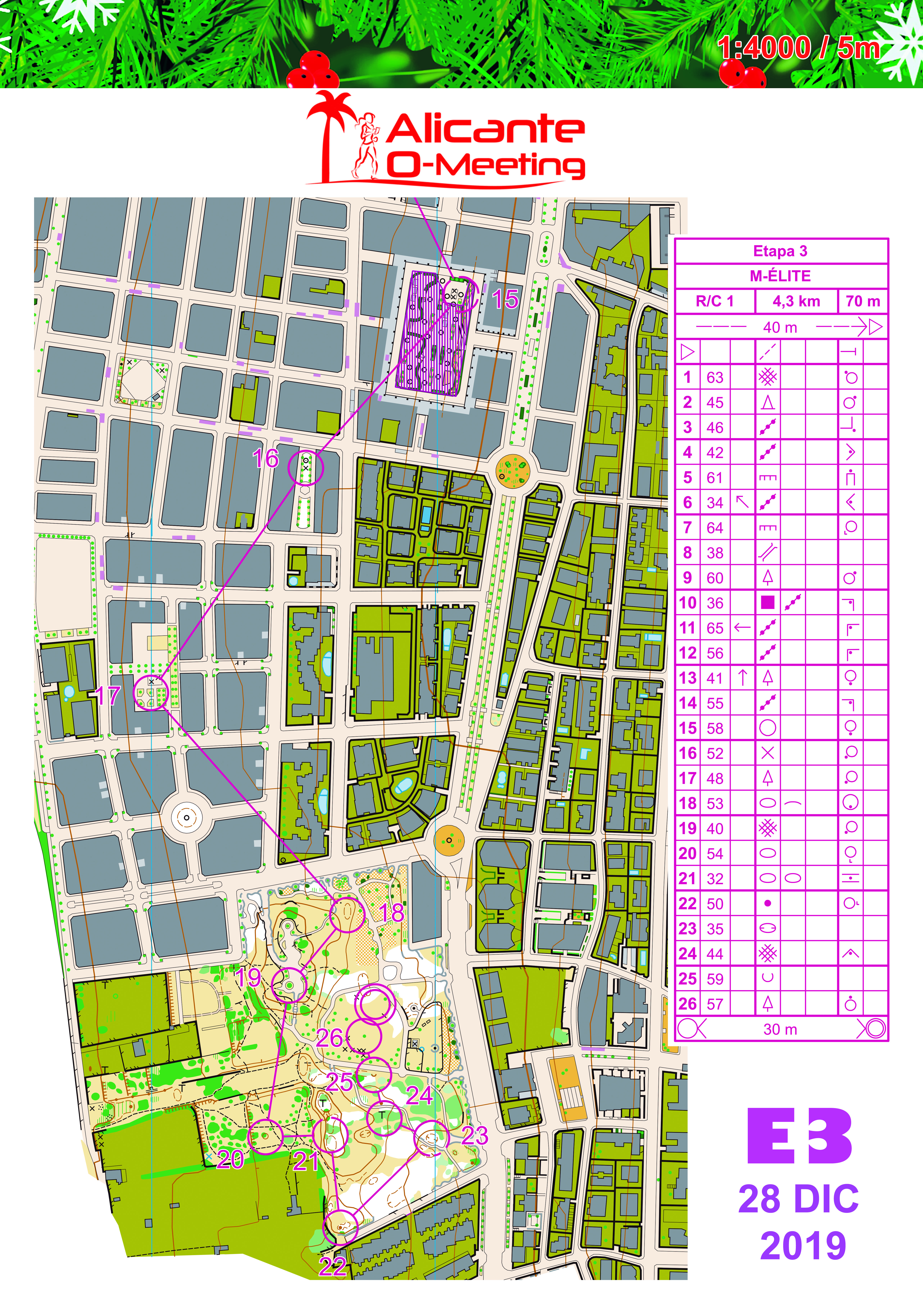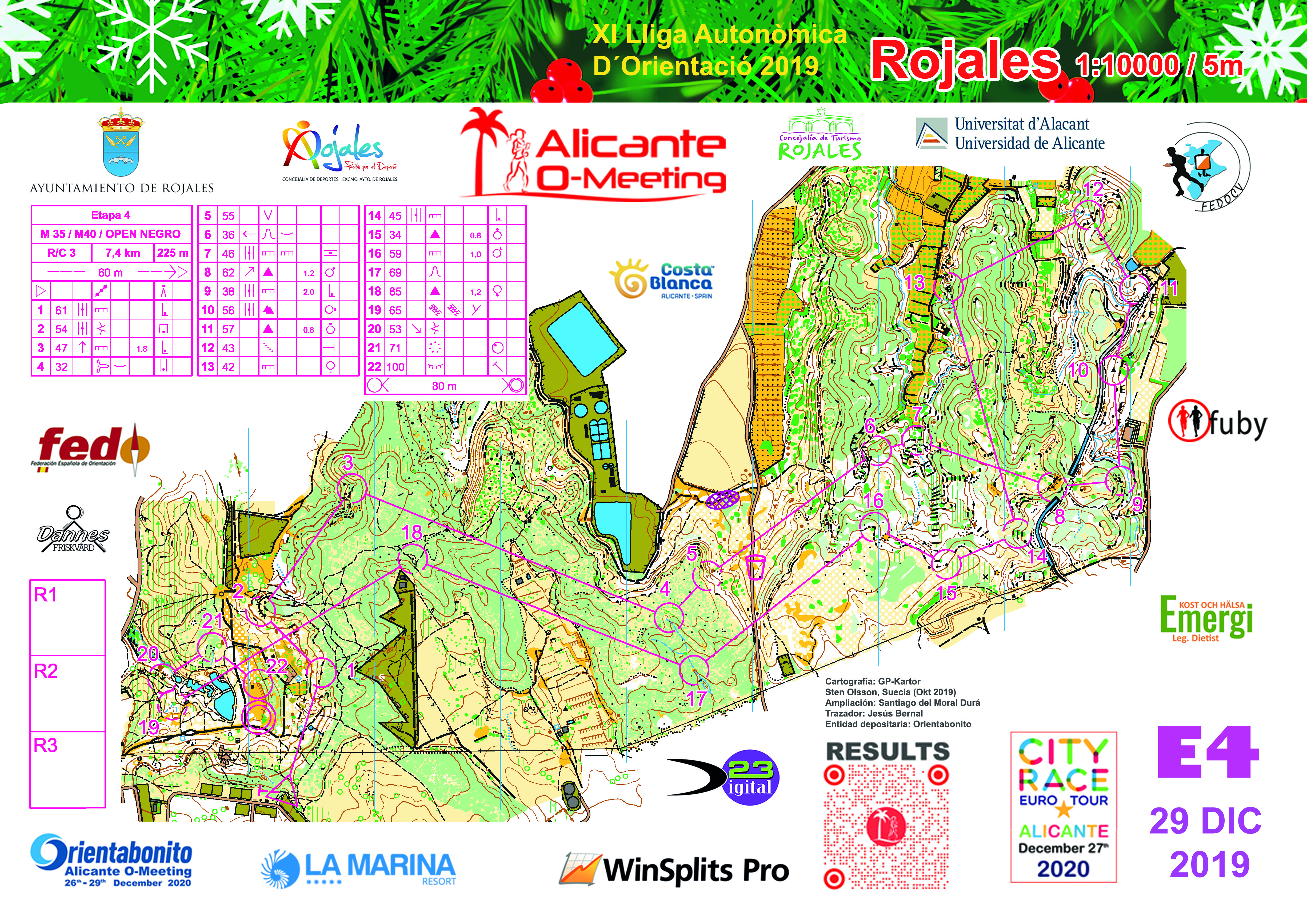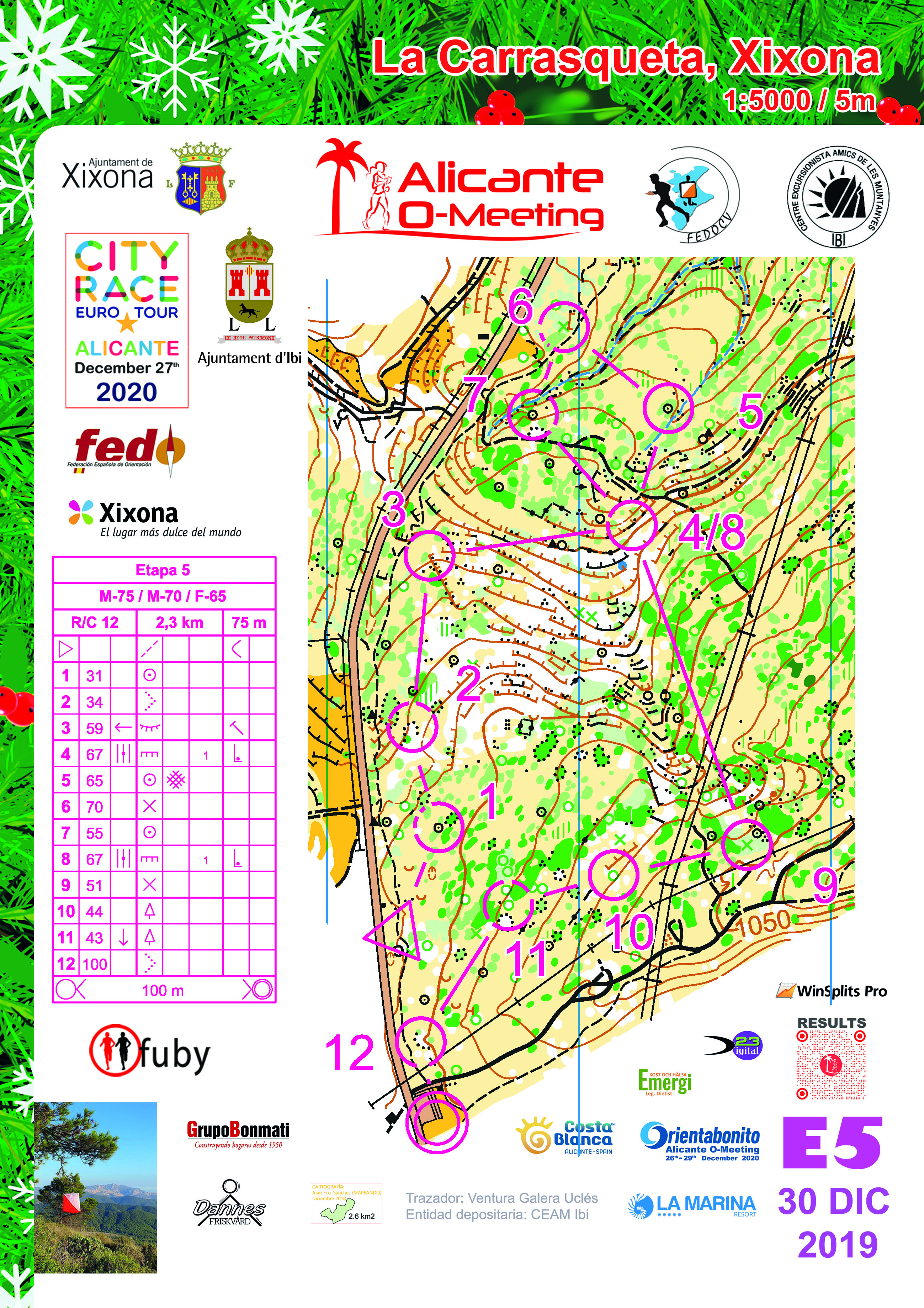 Alicante O-Meeting 27th - 30th of December 2019
NOTICIAS / NEWS 25 diciembre
- El event center con la recepción etc. estará únicamente en las etapas durante el evento
- The Event Center during the event will be located only at the stages
- Franja de salida aumentada con 30 min, debido al número elevado de inscritos (566 en total)
-
- Increased start range with 30 min, due to the high number of registrants (566 in total)
- Correlín. A las 12h en Etapa 2 y Etapa 4
- String course 2-7 years old / Correlín. At 12h at Stage 2 and Stage 4
- Tiempo máximo media distancia: 75 min
Tiempo máximo larga distancia: 150min
Tiempo máximo Sprint: 60min
Maximum competition time: MIDDLE DISTANCE: 75 minLONG DISTANCE: 150minSPRINT: 60min
- Categorías fusionadas
F70 y F75 están fusionadas con F65.
M75 está fusionada con M70
EN el Sprint: I Trofeo de Guardamar habrá premios para TODAS las categorías incluyendo las fusionadas
- Merged classes
WOMAN70 and 75 have joined WOMAN 65
MEN75 has joined MEN70.
At the sprint there will be classification and prices for ALL CATEGORIES, also the joined classes
- Fundas para mapas
Mapas impresos en papel no plastificado
Se entregarán 2 fundas por participante en el sobre de cada club.
En caso de lluvia la organización se encargará de poner los mapas en fundas
Habrá en el Event Center fundas a 50 céntimos, cada una.
- Plastic covers for the maps
You will receive 2 per participant in the envelope for each club.
In case of rain the organization is responsible for putting the maps in covers
There will be covers at 50 centimos at the EVENT CENTER
Alicante O-Meeting ha sido elegido para acoger la última etapa del Euro City Race el 27 diciembre 2020
Alicante O-Meeting has been honoured to host Euro City Race the 27th of December 2020
HARD FLOOR / SUELO DURO

En el polideportivo de Rojales. Coste 1 euro por noche. Se podrá pagar en el event Center Entre el 27 de diciembre al 30 de diciembre. 3 noches Horario. Entrada a partir de las 20 00. Salida antes de las 08 00 Reservar escribiendo un correo a info@orientabonito.com Pabellón Polideportivo Municipal coordinadas Google: 38.08639, -0.71734
Book hard floor for Alicante O-Meeting at info@orientabonito.com. Pay at event center. 1 euro per night. Bring your own sleeping gear.
Place: Pabellón Polideportivo Municipal in Rojales coordinadas Google: 38.08639, -0.71734
(info@orientabonito.com)
Tenemos inscritos de 23 paises. Contamos con un mínimo de 300 corredores en cada etapa
We have runners entered from 23 countries. About 300 per stage at least
Alicante O-Meeting 2020. entre el 26 - 29 de diciembre


Alicante O-Meeting
Una iniciativa por el nuevo club, Orientabonito de Guardamar. El objetivo es organizar cinco etapas en cuatro (4) días. Las fechas elegidas para 2019 son del 27, al 30 de diciembre, para que, a los participantes les dé tiempo de volver a casa para la noche vieja. Alicante O-Meeting ya tiene fechas para 2020 (del 26 al 29). Este año colaboramos con los clubes Universidad de Alicante, Alicante-O, KUDT-O y CEAM-Ibi. Primera salida, Etapa 1 es a las 15 00h

An initiative by the new club, Orientabonito from Guardamar. The objective is to organize five stages in four (4) days, the dates chosen on 2019 are from December 27th to 30th, so that the participants will have time to return home for New Years Eve. Dates decided already for 2020 (from December 26th - 29th). This year we are collaborating with the clubs: Alicante University, Alicante-O, KUDT-O and CEAM-Ibi